Staying home and making delicious treats for Valentine's day is awesome. It seems super romantic to me - putting love into making something. There are some very easy options here, for those of you who don't usually cook - you'll be able to do some of these. Part of the wonderful thing about Vegan food is how easy much of it is to prepare. It's so simple to make incredible tasting, healthy food without stretching your budget or needing to spend days preparing ingredients. Fresh and raw are options that should never be overlooked.
Chocolate covered strawberries are a magnificent option. Here's a
lovely blog with a great recipe
from last year's Valentine. South Africans can find Vegan Chocolate Chips at
Pick 'n Pay
, use Woolworths Organic Dark Chocolate, or buy Raw Cocoa from Fresh Earth or other health stores. Ethical chocolate sources are best. It's the most romantic to have a cruelty free Valentine's. Here's
another post
on Chocolate Dipped Fruit from Carciofi Rosso.
Honest Chocolate
is a great investment for Valentine's day. These chocolatiers make raw chocolate, with many Vegan options. They have an incredible chocolate spread that is worth trying.
Vegan Dark Chocolate options at Woolworths abound - they have aforementioned Organic Dark Chocolate, Cherry Liqueur Dark Chocolates, Ginger Glace Dark Chocolates, Dark Chocolate Covered Almonds...
Hot Chocolate
(link to My New Roots Haute Chocolate) is appropriate at any time of the year. It's been hot as hell here in South Africa, but you can always make hot chocolate, and chill it in the fridge for cold chocolate milk. Mmm. You could also just buy Alpro Chocolate Soya Milk, Alpro Chocolate Custard, Alpro Chocolate puddings... to mention the chocolate options. Woolworths also does a great dark chocolate chip packet with which to make hot chocolate, or chocolate chip pancakes. Woolworths also have delicious Chocolate Soya Milk. There are an overwhelming number of chocolate options!
Coco Pops are Vegan. That's a pretty awesome Valentine's day breakfast cereal, if you're into that.
Chocolate Chip Pancakes are one of my favourites. You can see a previous post about
Blueberry Pancakes here
- Just replace blueberries with Chocolate Chips. The dark chocolate chips from Woolworths are much better than the other commercial "chips". They're not nearly as sweet or ersatz. Alternatively, just use any chocolate you have lying around - smash it with your mortar and pestel.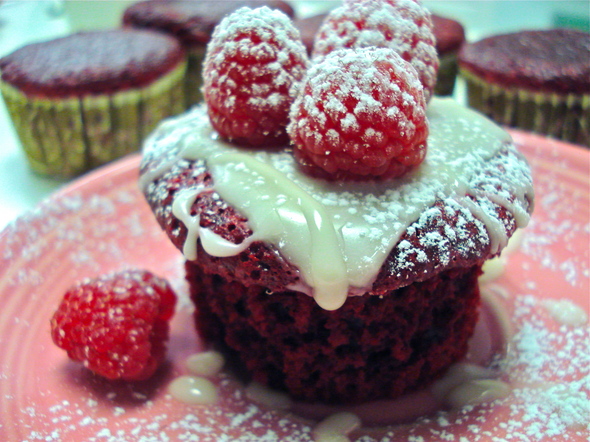 Photo by Vicki Brett-Gach a contributor on Ann Arbor.
Not Chocolate, but something that looks amazing to me are these
Red Velvet Cupcakes
. They also don't have any ingredients that are USA specific, like many of the recipes do. No Vegan Cream Cheese required for the icing. You can buy Vegan red food colouring from Woolworths. They have all-natural & plant based food colouring available.
If you're not so into eating sweets right now, a fresh fruit salad full of superfoods like blueberries and goji berries will also serve very well. Fruit salad, watermelon salads, red fruit salads - being a healthy and fit Vegan is something you do because you love yourself, because you love your partner, because you love animals and this planet.
One of my favourite salads is Watermelon and Lime salad. Watermelons go so well with a tangy lime dressing & sesame seeds. Otherwise try watermelon juice. That stuff is incredible, so refreshing! I have it in Hong Kong every time I go there - this little place on Hollywood Road makes the most incredible watermelon juice, freshly squeezed. Just thinking about it makes me long to be there!
Read Vegan Valentine - Episode I
Read Vegan Valentine - Episode II
Read Vegan Valentine - Episode IV
Read Vegan Valentine - Episode V
Read Vegan Valentine - Episode VI